windows xp
toddybody
Mar 24, 01:32 PM
Honestly, this is just as good of news for Hackintosh folks, as it is for MP owners. Dumb question folks, but can MacPro's upgraded with COTS ATX PWS? Ive never seen one...but im 99.999999999999& sure the answer is no.
---
Windows XP Themes, Windows
I would argue, that MS success isn't because of it's OS, it's because of third party support.

Take Windows. It's horrible, but too many companies have too much software invested in Windows software.
Take the XBox, the X box was built on DirectX, which made it much easier to program than the PS2. So third party companies could program for the XBox.

The Zune is from scratch, no third party companies to help push it. No corprate ITs to demand you buy it and use it.

The Zune is what Microsoft is without its monopoly.
---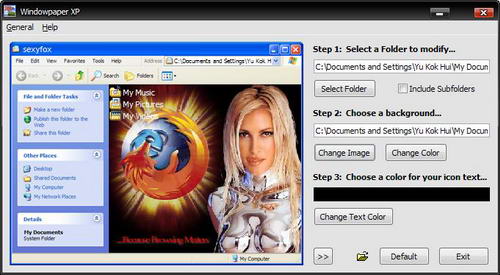 Windows XP was released,
PeterQVenkman
Mar 25, 04:13 PM
That's bad ass!
---
windows-xp-wallpaper.jpg
Thing is Steve Jobs is going to pull the usual trick (stupid contracts) and only release this to the American public.

We can always hope that they also want to make business outside US.
---
windows xp wallpaper
ROFL, tell me about it :D

Psht. I can get that up here for free.
---
HD windows xp wallpaper,
This should help..
http://www.apple.com/quicktime/guide/appleevents/

wow how did i miss that??
---
Wallpapers: Windows XP
My new "old" car...:cool:

http://farm6.static.flickr.com/5211/5384826941_9becd4f811_z.jpg
---
Windows XP Wallpaper
---
windows xp wallpaper.
I read through a bunch of these posts and I agree with some of you who think the iPod Classic is the best one, based on capacity alone. But the screen is too small now. I too also like to travel with my entire music library and videos - I never know what I'll be in the mood to listen to or watch. That said, if I could offer advice to Apple, I'd say give us the 160GB or 220GB capacity with an iPod Touch interface. Make it as thick as the current iPod Classic if you have to, but give me a larger screen and the same icon-driven interface of the iPhone and iPod Touch. Keep the price at $249 or $299 even, and I'll wait in line for it.

I'd buy that. Touch style interface is much faster (for me) when managing large libraries of music. Give me an iPod Touch with the newest high capacity hard drive.
---
Wallpaper Windows XP
I have mixed feelings about this. The only way I see this really becoming big is if Apple releases a Mac Mini media center. By so doing, Apple will catch a huge market of people who say, "What do you want to watch tonight?" How many times have you been in this situation. You've looked at all your movies, which you've seen at least three times each, and decide that you don't have anything you want to watch. Would if, from your remote, you had a whole movie store IN YOUR HOME? That's right. Who needs to go to Blockbuster or wait for NetFlix. Just point, click, and...hello, movie. You get to keep it for a few days.

This will only work, though, if it is that easy. If people have to figure out their own way to get it to the TV, they will simply go get the DVD from Blockbuster, because the player is already hooked up to the TV. If Apple wants to make it in the movie business, they need to build something that is meant to hook up to the TV right OUT OF THE BOX.

I'm excited to see it!
---
Windows XP Lightning Strikes
toddybody
Mar 24, 01:32 PM
Honestly, this is just as good of news for Hackintosh folks, as it is for MP owners. Dumb question folks, but can MacPro's upgraded with COTS ATX PWS? Ive never seen one...but im 99.999999999999& sure the answer is no.
---
Category :: Windows Wallpaper
I rented an HD-DVD from netflix (Van Helsing) and it wouldn't play on my Mac. I thought that the current version of DVD player would let you play these discs but all I could find through Apple tech support is that DVD player will let you play DVD Studio Pro burnt HD discs.

Or am I doing something wrong?

I think you are confusing the term HD in various context.

A movie file (computer file) can be in HD resolution (1280x720 or 1920x1080) encoded in a variety of formats (MPEG2, MPEG4-H.264 aka AVC, Microsoft VC-1).

If the non-DRM'd file is available on your computer, you can view them using a variety of playback software such as Quicktime, Windows Media Player, VLC player, etc.

However, you rented HD-DVD. This is a physical media that requires a blu-laser based HD-DVD player to play it on. Currently only Toshiba sells such a player as a standalone player HD-A1 I believe. They also have a high-end laptop with this player built-in. So, you need a HD-DVD readable drive to playback the HD-DVD disc you rented from Netflix.

What Apple is talking about is authoring HD disks. You can make HD movies using Final Cut Pro or even iMovie by importing a HD movie (probably in HDV format). Then create a DVD image of it that is capable of HD. I have not used this feature - so I don't know the details.

I would have preferred a way to burn H.264 based HD movies into a standard DVD (red laser based single or dual layer DVD) and play it back on a low cost player that can do H.264 decoding (including HD resolution). I guess a Mac Mini is one such beast ;-)
---
your windows XP Wallpaper
Lay the iMac on it's back, and it all becomes clear. There's nothing more frustrating than not being able to touch your computer screen.

Why would I lay an iMac on its back? There's nothing more frustrating than not being able to touch your computer screen, are you sure? I can think of many things that are a lot more frustrating. Perhaps you're obsessive-compulsive?:p
---
windows xp wallpaper. windows
Don't be like that, i noticed it.
http://forums.macrumors.com/showthread.php?p=2677363#post2677363
But that doesn't mean everyone isnt going nuts, because they are. This is worse than any build up to an Apple event i've ever remembered

I simply meant that, normally, people would be excited because there were covered banners. But this year, they were excited by a bunch of icons. ;)

There are actually 3 covered banners on the ground floor.

I know -- I was specifically referring to the original photo of the icon-filled banner, which only showed two of the three banners.

Kingsly: I'll keep an eye out for you before the Keynote tomorrow. EDIT: Sorry -- just saw your other thread. Have fun visiting Cupertino!
---
Cevap: Windows Xp Wallpaper
longofest
Jul 19, 05:46 PM
not as long as Vista customers will have to wait :D

It never gets old... ;)
---
Windows XP Wallpapers:
To cut the price of the Mini by $100, Apple better hope Intel are doing a "Half Price" cut which is extremely unlikely. How much would it hurt Apple to just double the height of the Mini and put a 1.83 GHz Conroe (Allendale) in there and a 3.5" Hard Drive? I'm pretty sure no-one would be whining about that. It would also get the price back down to $499 easy!

I've been saying since the mini came out that it's too small. Even if it had been twice as big it still would've been very small. Going bigger would have allowed a 3.5" HD and a more standard logic board. Such a mega-mini would really be the media storage machine people are dreaming about because a 250GB HD is about the same price as an 80GB notebook drive while offering much better performance.

Of course I've also been saying that Apple needs to have a machine in the iMac price range that doesn't include a display. Remove the LCD, put in a desktop CPU and an upgradable video card and you're back where you started cost wise. The Mac Pro is such a good deal for people who need that kind of power that having a mini tower or desktop with fewer drive bays at the 20" iMac price point wouldn't take away any Pro sales. I think such a machine would attract a significant number of current PC users who can't cope with the all-in-one, can't upgrade anything concept of the iMac.

Having another tower would also drive Cinema Display sales. Maybe not a huge amount given that Apple displays are significantly more expensive than the competition, but any increase would be good for Apple's bottom line.

So why don't I like iMacs? In 14 years of owning Macs I've upgraded, on average, every two years. It makes absolutely no sense to toss aside a perfectly good display every two years when I can simply plug a new computer into it. When there is a major improvement in display technology I can change on my own timetable. Oh and I recently upgraded my RAM without having to remove any first and installed a second HD in preparation for Time Machine. Try doing that with an iMac.
---
Desktop Windows xp Wallpaper
Hi, everyone.

I'm new iPod Touches, though I've had some other iPods over the years. I'm a teacher, and decided that I'd use the Bento app on it to keep track of my students' progress at school. My niece rolled her eyes and informed me that I'd need a case and screen protector. So, I went to Best Buy today and got the Griffin Gloss and the Invisishield. I put on the case, which seems to work fine. Then I opened the shield and got a good look at it. It immediately occurred to me that I'd probably need to take off the case, put the shield on, then put the case back on. However, the case--which consists of two pieces of hard plastic that intersect in the middle after installation--won't budge. I'm sure I could get it off, but I'm not sure I could do so without doing significant damage to the case. These things are supposed to be removable, aren't they? Also, would it be a big deal not to have a screen protector on it? I'm going to be using it a lot in multiple locations. It's probably going to get bounced around on a regular basis.

Thanks,

Pete
---
Windows XP Wallpaper Supreme
broncopde
Jun 24, 02:01 AM
I just don't see people wanting to have their arms up like that to use a desktop computer. It works so well on the iPad cause you can use it where your hands are already sitting (in your lap). But this...doesn't strike as being very practical at all.
---
your windows XP Wallpaper
It's already in the last edition, but since it's been less than 2 hours since I bought it and I'm still VERY excited about it,

2011 2.5L SEL Fusion. Should be here Saturday! :D

http://carphotos.cardomain.com/ride_images/4/272/3221/38179110001_large.jpg

Not my picture of course.
---
Here's the deal...(and I just realized that the way this is written might make it look like I have earlier posts in this thread. I don't. I'm jumping in right here.)

The reason that I think pros fear "dumbed down" isn't so much because they want something that is difficult to use, but rather because sometimes making difficult things easy makes things that were previously easy difficult, or impossible.

So just this week I had to help somebody with an iMovie problem. There was a part where they had 3 overlapping audio tracks. Movie audio, voiceover, and music. Try as they might, and try as I might, we could not get the movie audio to actually go away -- even though we had set it's volume level to "0%."

Oh...and did I mention that they're on a white iBook? Fine machine, but a little slow. So I copy their iMovie stuff onto an external drive so we can look at it on my Core i7 iMac instead.

Except iMovie on my iMac won't recognize the project on an external drive. I know that supposedly iMovie is supposed to...but it won't work. So I have to copy the files onto my iMac, and then iMovie magically sees them...because they're in the spot that iMovie wants files to be in.

Well the only way to get the clips to work right that I could come up with, was to actually run all their clips through Quicktime 7 and just delete the audio track off them. Voila! No audio track for iMovie to play, when it's not supposed to.

My point is that I spent 30 minutes dinking around with the "Easy" iMovie to do what would have taken me 10 seconds to do in Final Cut. (Select audio. Delete.)

And that's pretty much my experience every time I get lulled into trying to run a quick project through iMovie. Everything seems to be going well, I'm even sort of enjoying myself (Don't tell anyone), then I hit a snag or a wall...bump up into some limitation of iMovie that there isn't a very good work-around to...and wish that I'd just used Final Cut to begin with.

So while I agree that there are those who want pro tools to be difficult simply for the sake of having a high barrier of entry...


...I also think there are a ton of us that are just afraid that the cost of these new and handy features will be that some of the things we rely on doing, especially things that are a little "hackish," will become difficult/impossible. In the name of simplicity.

It's like my iPhone. I love it to pieces, and I don't plan to have any other type of phone any time soon, but sometimes I wish for a few more advanced features...features that are available (Usually through third-party tools) on Android. Instead I'm stuck hoping and wishing and praying that Apple will implement them.
---
Let be clear here Touch screens are of limited usefulness in the normal desktop range of activities. You can read about ergonomics for the details or take this Tibit of experience, they are fatiguing to use. I base this on experience in industrial settings where people will often go out of their way to make use of a keyboard, mouse or other entry device instead of the touch screen. Apples quality GUI would have no impact on the negative associated with extensive touch screen usage.

The idea of a layer being used as a replacement for Dashboard has some appeal as currently Dashboard sucks. However this would only work well by emulating an ARM processor which is probably as wasteful as JavaScript. If I was Apple I'd think long and hard about that.

Further I'm not even sure I agree with the premise that a touch facility would be hard to integrate into Mac OS/X. It would seem to me that adding another layer would be more difficult for everybody concerned, especially developers. Their goal maybe an exact emulation of iOS gestures but I'm not even sure that makes sense. You really need a gesture system tailored to the desktop that hives with track pad usage.

So while I can see Apple doing something in this regard I don't think a Touch screen will be there to turn the Mac into an iOS device. Far from it infact. Even if they model the Touch screen interface on the I devices the goals and real usability will be vastly different. Even worst consummer acceptance and use wount be there. Even the geeks will quickly discover that in the vast majority of cases a Touch screen on the desktop sucks.

What will be very interesting is the minority of apps that will benefit from such an interface. It is just that many desktop users will never use such apps so the whole touch screen thing is a bit of a joke. For many users what Apple should be doing is going after voice input/dictation. Put all those cores to work on an AI that can process human language.


Dave
---
....Steve gets another call 5 mintues later...


...pulls out iPhone

...geeks bumrush the stage and carry Steve off on their shoulders

I find it hard to believe they'll get that excited about a Cisco Wifi phone, especially if a Motorola iTunes phone doesn't do the job...

I guess we'll see more of Leopard.

We might see more of iTV. I think, contrary to what some insist upon here, that iTV will be a standalone box, requiring no additional Mac to work. There's little point in it having storage if it isn't going to be, and a consumer device requiring a computer is something I think Apple wants to get away from. At the same time, what I've seen so far is Apple seperating the media business from the computer business, and wouldn't be surprised if they actually avoid showing iTV (and iPod enhancements) at MWSF.

iPod Phone (or whatever it's called) is a no-no. I'm not ruling out it being a future Apple product, there's too much evidence it exists, I just doubt it'll be there for MWSF, both because it's not a Mac (see above comment) and because I think they'd do an actual keynote. And, as always, for Apple's sake, I hope the rumour is complete rubbish.

iLife - why, yes. Even better would be improvements to iWork, notable some of the missing components added. Apple lacks an office suite. iWork is not an office suite, and Mac enthusiasts do everyone no favours by pretending it is. If Apple are unwilling to complete iWork, they could throw their weight behind NeoOffice.

I really love the game console rumour. It sounds completely made up to me, but now would be a great time to introduce something, even if it's just a low cost Mac mini in practice. The Playstation 3 is a disaster. The Xbox 360 isn't selling in anything like the numbers Microsoft hoped. The only console that's actually moving at the moment is the Wii, and the low power of the thing means it might only have a year of marketability in it. If ever there was a time for Apple to jump into the market, it would be now. But that said, I seriously doubt they will.
---
There is one in post #33 (http://forums.macrumors.com/showpost.php?p=12297742&postcount=33) of this thread.

I skimmed over it and can't believe I missed it. Thanks.

I don't know, I don't think it's too bad. I wanted a change in both iCal and the Address Book, so I'm not complaining. I prefer the one in the previous build however.
---
That video makes me want to go fire up my PS3 :eek:
---